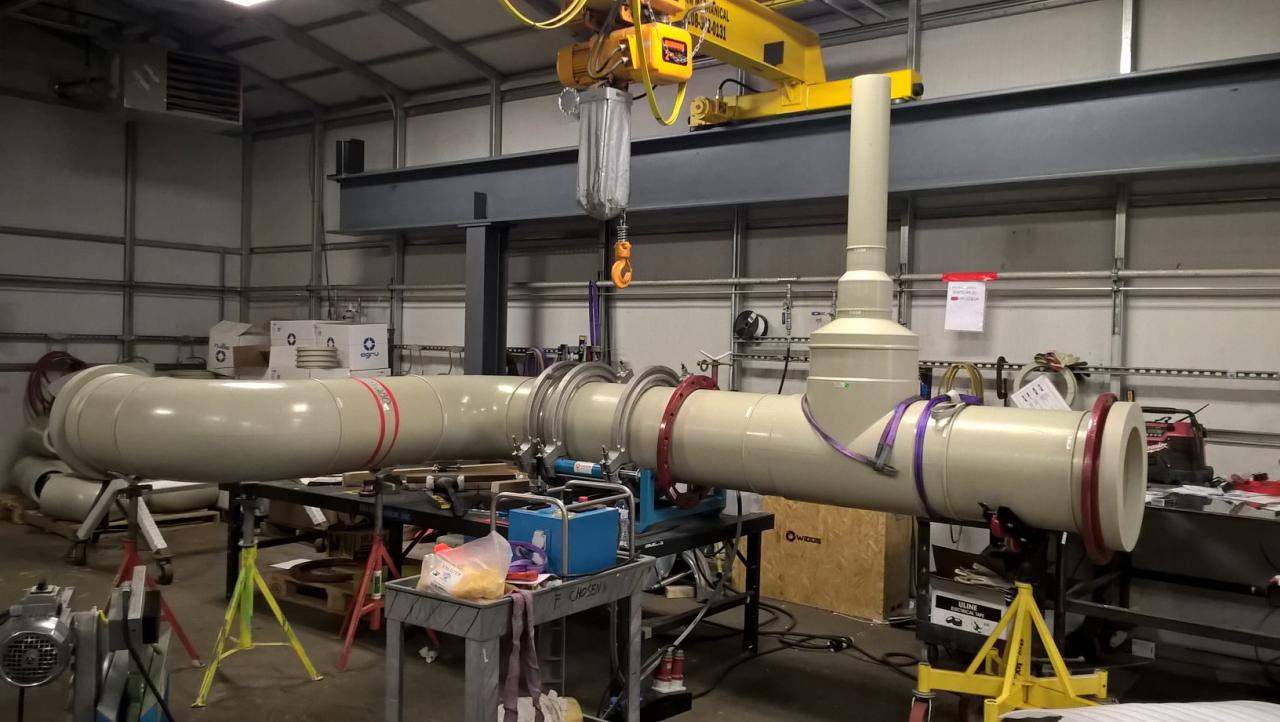 "Our fabrication shops utilize the BIM to FAB technology enabling our projects to receive the highest quality modules while preserving a safer and more efficient project jobsite."
Mechanical Fabrication Shop
We boast more than 20,000 square feet of mechanical fabrication shop space on 20 acres, and separate fabrication shops that are product-specific to Carbon steel, Stainless steel, PVC/PP, UHP PVDF. We also have 3000 feet of Class 10 cleanroom for Ultra High Purity systems. All our shops are environmentally conditioned per our client's strict requirements. Oversight of each fabrication shop's quality control is conducted by two full time Certified Welding Inspectors. Full quality control traceability is in place, and documentation available per client procedures.
Main Fab Shop
The main shop is a drive-thru style facility with three overhead 10-ton-capacity cranes. The facility is equipped with automated cutting stations and Pipe Worx welding machines. It is capable of MIG, TIG, stick, Flux Core, Plasma, and Orbital welding processes. Weld positioners and large diameter automatic roller systems allow us to efficiently serve the large bore piping needs of our clients. The shop is also equipped with high efficiency beveling, drilling and preparation tools, and all shops are equipped with RO Water, Clean Dry Air, High Pressure Air, Argon and Nitrogen. Fabricating stations include smoke exhaust systems to ensure employee protection.
The 3000 Sq./ft. Class 10 Cleanroom fabrication facility hails 12 AMI orbital weld stations, and 2 additional stations for the AMI 227 weld units capable of 2"-24" CFOS and EP tube and pipe systems. The shop is facilitated with 99.9999 purity Argon, Nitrogen and Helium.
Mechanical Equipment
15000 sq/ft carbon shop, 5000 sq./ft Full HVAC shop, ,6000 sq/ft Stainless Steel Shop, 3000 sq/ft class 10 cleanroom shop
Positioners and large diameter automatic roller systems
Twenty welding stations featuring state-of-the-art Stick, TIG & MIG welders
Bevel machines 2"-48"
Pipe bevelling stations
Automated Band saws
90-ton ironworker 
Plasma cutters
Grooving and threading stations
Cutting and pipe tapping stations 2"-72"
Painting and Insulation shop
Plastic bend stations
Plumbing fixture stations
Testing stations (Hydro / Air)
Flexible roller islands
Thermoplastic and fusion weld stations
PVDF welding stations (Class 100)